How does Stockholms stad work with Idea Management?
February 7, 2019
How does my organization work with Idea Management?
I work in the City of Stockholm. Our organization has 40 000 employees. We have an Innovation strategy. In our budget for 2019 there is a lot of focus on innovation. We are to use digitalization as a tool for innovation, increased efficiency and growth in the Stockholm area. We have established contacts with Kungliga Tekniska Högskolan, KTH, and Stockholms universitet, SU. We co-fund an innovationlab called Openlab that works with challenges in the public sector, and a test bed called Urban ICT Arena. We have structures within our organization for external fundings for innovation.
I work in a 3-year project, Vinnova financed, to establish an Idea Hub in our municipal. My task is the creation of a tool which will collect, develop and distribute ideas from our employees. I work with different functions within our organization, to coach those in need of help. We focus on their challenges in order to get to the core of the problem, so that we don't just take care of the symptoms, but actually solve the real problem. I also encourage ideas and direct idea-owners, create workshops and look for fundings, I coach "the owner" of the problem or idea to develop it, solve it and distribute the knowledge from it. One of my main focuses is to make sure that we develop our ideas together with our customers and that the projects are within our assignment – never forgetting that we are working for the citizens and are tax-funded.
In my opinion our model for control and follow-up need to be developed as it focuses on managing administration rather than development and innovation. We also have Kommunallagen, a law which regulates the municipals organizations and assignments that doesn't encourage innovation.
We live in rapidly changing times, in my opinion, the biggest challenge facing society within the next five years is our Demographic challenge.
Facing our demographic changes (graph below) you can see that there are a lot more people working today then there will be tomorrow (in percent), and at the same time the number of elderly will vastly increase. There will simply not be enough men and women to do the welfare jobs the same way as we are doing them now. We need to work smarter, to combine new technology and inventions with new ways of working. We need to use digitalization and AI as well as RPA to free working hours for human contact. The employees in the welfare sector must be freed from administrative tasks in order to be able to concentrate on personal contact with elderly, pupils, parents and so on. In Stockholm we have just started this journey.  Fewer employees are to give more service to an increasing number of citizens – and we need to hurry to adapt. It's important to create a sense of urgency; politicians need to make decisions and the public sector need to work together with companies, academy and citizens to help solving our challenges.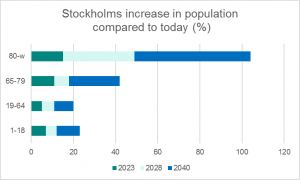 <! --/col-lg-8 -->

<! --/footerwrap -->