Here is some information about the different tools and platforms we use in this course.
THE COURSE HOMEPAGE
All information regarding the course is available and will be continuously announced here on our course homepage. It´s built on the open source software wordpress and the canvas theme from Woo themes.
WEBINARS
All webinars will be held on the platform Zoom. In order to participate, simply click the following link and enter as a guest, stating your name. You should be required to install a program. All webinars are recorded and made available here on the course homepage. This enables as many course participants as possible to watch and listen to the presentations and discussions, even if they missed the live webinar.
All webinars will be held in: https://sunet.zoom.us/my/uce72
If you have never used Zoom before, please try to visit the meeting room above before the first webinar.
BLOGS
This course is very much about reflection as well as learning through writing and commenting. This work is done on personal blogs, connected to the course home page. The participants can choose among several different blog platforms. The only requirement is that comments are turned on and that the platform includes an RSS-feed. All popular platforms like Blogger, Edublog or WordPress do.
If you don´t run a blog today there are several providers where you can start one for free in just a few minutes. It´s easy to start one and you can find guidelines on many places on the internet. For example here connected courses and here edublogs.
Feel free to use any provider you like. One of the most popular choices these days is probably:
Tips about blogging
Five tips to become a more confident blogger
Four Reasons People Don't Blog and Ideas to Help Change Their Mind
15 Lessons from 15 Years of Blogging
TWITTER
We use Twitter to socialize and inform each other about the course and related resources. During the course we will also have several Tweetchats. Please follow the course hash #uce72 and always include it in your tweets, when tweeting about the course.
If you don´t have a Twitter account get one here.
Twitter For Beginners: Basic Guidelines Before You Start
10 Reasons to NOT Protect Your Tweets
Tweetchat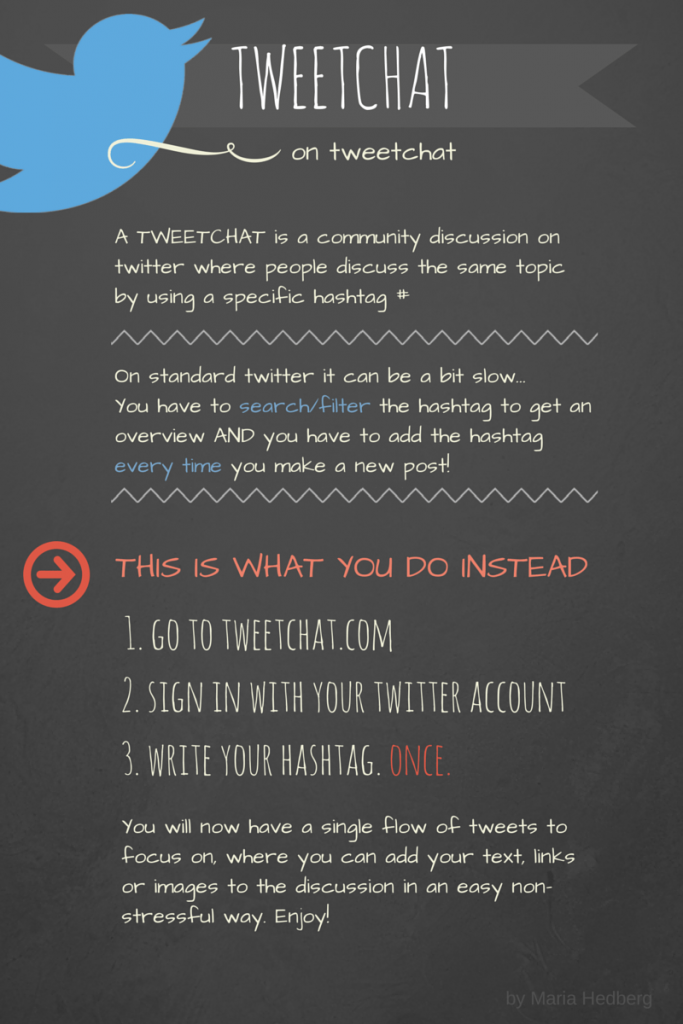 During some of the modules we will conduct a Tweetchat. A Tweetchat is a community discussion via Twitter using our hashtag #uce72, taking place at a specific point of time. We recommend you using Tweetdeck or Tweetchat for that purpose instead of your Twitter app or Twitter.com.