Welcome to our first Tweetchat of module 3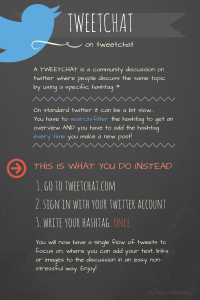 Today on Wednesday, 14 March 12.00 – 13.00 CET Lars E Olsson will lead a tweetchat on the topic of customer influence using our Twitter hashtag #uce72.
Lars will ask questions with a number attached, eg "#uce72 Q1 What do you think of tweetchats?". Afterwards, you reply with #uce72 and A1 for replies to Question 1, eg "#uce72 A1 Tweetchats are awesome!".
We will discuss around 4-6 questions depending on the amount of replies and the development of the discussion. The tweetchat will be made available afterwards on the course homepage.
We recommend to use Tweetdeck or Tweetchat for the tweetchat instead of your Twitter app or Twitter.com.
If you are new to Twitter here is a short video which explains all you need to know and here you can find more information about tweetchats.
Here is a additional request:
#uce72 To prepare for the Wednesday tweetchat @openUCE, please reflect upon a quote by Prof Cialdini: "When tools are used unethically as weapons of influence, any short term gain will almost invariably be followed by long-term loss." True/False: Why?

— Lars E. Olsson (@Lyckolars) March 12, 2018
See you in a bit!

Jörg and Lars

<! --/col-lg-8 -->

<! --/footerwrap -->